Meet Stevie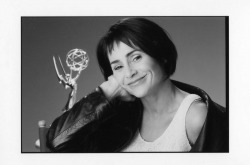 Emmy Award-winning Stevie earned the moniker 'Cartoon Queen' for her prolific work infusing life and personality into characters on thousands of animated productions including 'Mouse' on Reboot, 'Spydra' on Gadget Boy, 'Share Bear' on the Carebear movies, 'Dixie' on Donkey Kong Country, 'Natsuko Fuji' on Inuyasha, 'Gnat' on Growing Up Creepie, 'Tigrerra' on Bakugan and G.L.A.D.I.S. on Totally Spies and
'Whazzat Kangaroo' on Zoobilee Zoo.
In 2002, Stevie received an EMMY Award for voice-directing the dialogue and music for the beloved Disney classic, MADELINE, for which she also portrayed the voices of 'Miss Clavel' and 'Genevive'. Stevie served as Voice Director on Teletoon's hit show Best Ed, while voice producing 2007 Emmy Nominee Growing Up Creepie. In Los Angeles, 2009, Stevie cast & voice-directed Young Dr. Dolittle, an animated feature featuring Tom Kenney (the voice of Sponge Bob Square Pants). She then went on to cast and voice-direct Teletoon's Detour pilot, Celebutard Nation, which premiered at the Ottawa International Animation Festival where Stevie facilitated 400 Animators 'HOW TO DO CARTOON VOICES' in their own shows.
Vallance continues to excel in the field of 'cartoon voice-over' as one of North America's most sought-after coaches. 'Tooned In! Workshops' is Stevie's own brand of 'transformative' workshops, which has been launching animation voice-over careers since 1995. Scroll for 'Workshop History'.
Stevie is CURRENTLY based in LA; casting and voice directing for Executive Producer Bill Schultz (Home Plate Ent) on animation series, Wild Grinders (Nicktoons) and Guess How Much I Love You (Disney Junior).
Testimonials from Stevie's Executive Producers, as
'Voice Director' for their shows:
"I'm so glad you are a part of our team! It has been a pleasure! You bring so much ˆ I couldn't have asked for more!!!" ~ Schultz, Bill, Executive Producer Home Plate Entertainment, Wild Grinders, Nicktoons and Guess How Much I Love You, Disney Jr.
"I thought you were grace under pressure!" ~ Audu Paden, Sr. Director, Supervising Producer, Polly Pocket, Mattel
"Your contributions as a voice talent and singer would be more than sufficient to earn praise, but your gifts as a voice director and music coach are exceptional... The critical success of our show is due in no small part to your considerable efforts." ~ Stan Phillips, Executive Producer, Madeline, DIC Enterprises

"I am more than honored to...walk along side someone that strives to bring integrity, passion and professionalism to our business." ~ Producer, Silverwing, Bardel Animation

"Thanks for all your dedication and hard work... and thank you for being the wonderful, talented and gracious director that you are! I'm recommending you to everyone here at Discovery Kids!!" ~ Melinda Toporoff, Executive Producer, Growing Up Creepie, Discovery Kids

"... you are on the top of my list if I need voice overs, you did a fantastic job with the Wacky Powers intro!" ~ Eddy Mayer, Executive Producer, Whacky Powers Kid

Pertinent Links:
<![if !supportEmptyParas]> <![endif]>
2-minute OVERVIEW of Tooned In! Workshop
<![if !supportEmptyParas]> <![endif]>
Student Feedback
http://toonedin.ca/student-feedback.html
<![if !supportEmptyParas]> <![endif]>
Stevie's workshop at giant Comic Con Conference in NYC, Oct, 2010
http://www.toonzone.net/news/articles/35338/nycc2010-intro-to-animation-voice-acting-with-stevie-vallance
<![if !supportEmptyParas]> <![endif]>
Stevie turns YTV's Carlos into a Toon
<![if !supportEmptyParas]> <![endif]>
Stevie turns CityTV Calgary Breakfast Show's hosts into Toons
<![if !supportEmptyParas]> <![endif]>
Stevie turns CityTV Toronto Breakfast Show's hosts into Toons
<![if !supportEmptyParas]> <![endif]>
Review by Grayden Laing. Paul Ullrich doing 'Marilyn':
---
Workshop History
(since 1995)
Stevie Vallance, Artistic Director of Tooned In! Workshops, has been facilitating actors in giving 'voice' to their 'personalities' for over a decade. Now, with a collective student base of more than 800 (and rising), Stevie is thrilled to provide a 'safe' place for animation actors to 'fall on their butts', while they discover the boundaries of animation acting in a supportive, professional environment.

Founded in 1995, the first 'Finding Your Inner Toon' workshop took place in North Vancouver, British Columbia. Since then Stevie has also taught in Toronto and Los Angeles. In 2004 she presented Tooned In! - A Voice Academy, a series of sold out workshops featuring all of the many facets of voice-over including Singing, Promos & Trailers, Commercial Advertising, CD Roms and Narration.

Stevie's favorite motto: 'It beats therapy!', is now uttered by many of the grads who have been influenced by her uniquely 'transformative' techniques, and who have gone on to land roles in animated television series, feature films and multi-media.

With the 'overnight' trend in visual and audio production moving rapidly towards animation and commercial voice-over (cd roms, multimedia, web sites), Stevie is thankful that twenty-five years ago, while hitting the pavement as an 'actor in Los Angeles', she decided to take a second look at the supplemental career that once 'beat waiting tables' and which has now become her highest grossing income.